Are you wanting to get your ranch brand recognized? Maybe you are direct marking beef in your community? Or maybe you are selling purebred cattle and what to get your ranch name out there to breeders  Have you been posting to social media and you are hearing crickets? Let me give you my 5 tips for effectively using social media to increase awareness of your ranch and in turn help increase your sales.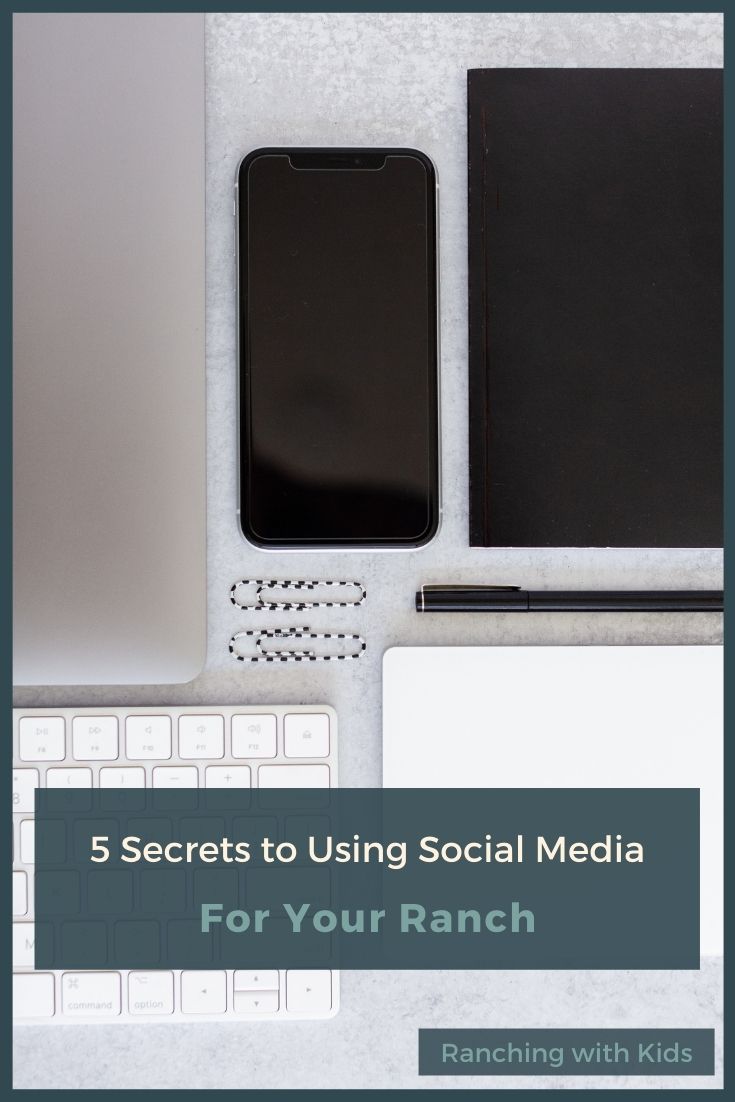 Be Consistent on Social Media
Posting consistency is the most important tip when you are trying to grow your ranch brand. You want your followers to know when to expect your posts and this will also help your brand to stay in the top of the mind of your followers. Social media platforms also favour consistency so this will help your posts show up more in the algorithm. Try to create a schedule and then stick to it. I prefer to post at least once daily on my ranch accounts. Your followers will also come to expect it and then look forward to your content. Remember, consistency is key!
Engage with your Followers
Engagement with your followers helps you to get to know your followers, learn what they want and create meaningful relationships with them. I have also found that engaging on other accounts really helps to get your ranch brand noticed. It is best to find accounts to engage on that are your ideal customer or "avatar". When you are engaging with your followers, be sure to ask questions, and thank them for their engagement . Try to engage within the first 30 minutes of your post going live. This creates a conversation and a connection that they will remember and want to respond back to.
Use Crisp Photos
I am very picky when it comes to the photographs that I share from our ranch and our daily life.  It is important to have clear, crisp photos that show a clean and healthy environment.  Muddy seasons do happen sometimes, but try to plan your photos around it so that those types of photos do not get used.  Remember to wipe off your camera lens if you are using your phone and be conscious of lighting.  Shoot from a few different angles and then use the best photograph.  Trust me, I delete more than I keep on my phone and on my camera.  
Use Personal Stories, Call to Actions and Questions to Increase Engagement
When your customer can relate to you, they can more easily develop a relationship with you. Personal stories are a great way to connect and build a manful relationship with your followers. Encourage your followers to take action by using a call to action. This could be directing them to your website, asking them to comment with a response, or asking them to send you a dm for more information. This all ties back to engagement. By getting engagement, you are learning about your customer and you are helping your brand get noticed in the social media algorithm.Always remember the 80/20 rule when posting. Try to keep only 20% of your posts about selling your business. The other 80% should be helpful tips, stories, resources and educational posts that help to provide value.
Build your Email List
You do not own your social media accounts.  What this means is at any point in time, any given social media platform could decide to suspend or delete your account.  Therefore, it is extremely important to have a method of capturing your followers email addresses.  You own your email list.  There are program that can help you capture email addresses, some are free and others have more features that can help you with capturing email addresses. By creating a simply, branded pop-form, your visitors can easily provide you with their contact information. 
Now to Start Planning Your Social Media
Now that you have my top 5 tips when using social media to develop and grow your brand, it is time to start planning.  Send me a message if you would like to know more about any of the above tips or would like help getting your brand noticed more on social media.