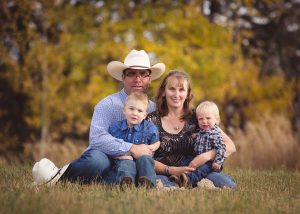 I am a homeschooling mom to two busy boys & a baby and beef cattle rancher in British Columbia.  My passion in life is family and all aspects of agriculture. Cattle ranching is not only a business, but also a lifestyle and I thoroughly enjoy sharing my lifestyle with others.
I have lived on my family's cattle ranch for my entire life, with the exception of living in town and coming up to the ranch every day until I was 3.  My grandparents purchased the main ranch 50 years ago as it was their dream to cattle ranch.  We currently run a purebred Horned Hereford herd and a commercial Hereford X herd.  We sell bulls, calves, bred heifers and a few cows each year privately and through B.C. Livestock Producers Co-op.  We also market grass-fed beef, grain-fed beef and grass-fed lamb locally.  My parents and I are currently working full-time on the ranch. My husband works off the ranch, but helps us out during the evenings and on weekends.
I was actively involved in the 4-H program and the Canadian Junior Hereford Association program as a child. I am excited for my children to be involved in youth agricultural programs.
My oldest son is starting Kindergarten this fall and we will be using a variety of curriculum for this school year!  My son is a very busy 5 year old so I try to focus on curriculum that is hands-on with lots of activities.  Since he loves being outdoors, a nature study is a must!
My hope is that this blog gives you some insight into our ranch life while being a homeschooling mom. Click here for my post on why we homeschool. I would love to hear from you about your journey in agriculture, raising children and/or homeschooling!!