One of the things that I love so much about doing a nature study is how sporadic it can be.  I plan to do at least one nature study activity each week; however, since we are outside on the ranch most days, nature study can sometimes happen every day!  I don't always have a detailed plan for the day, as it depends on what we see when we are out and about in nature.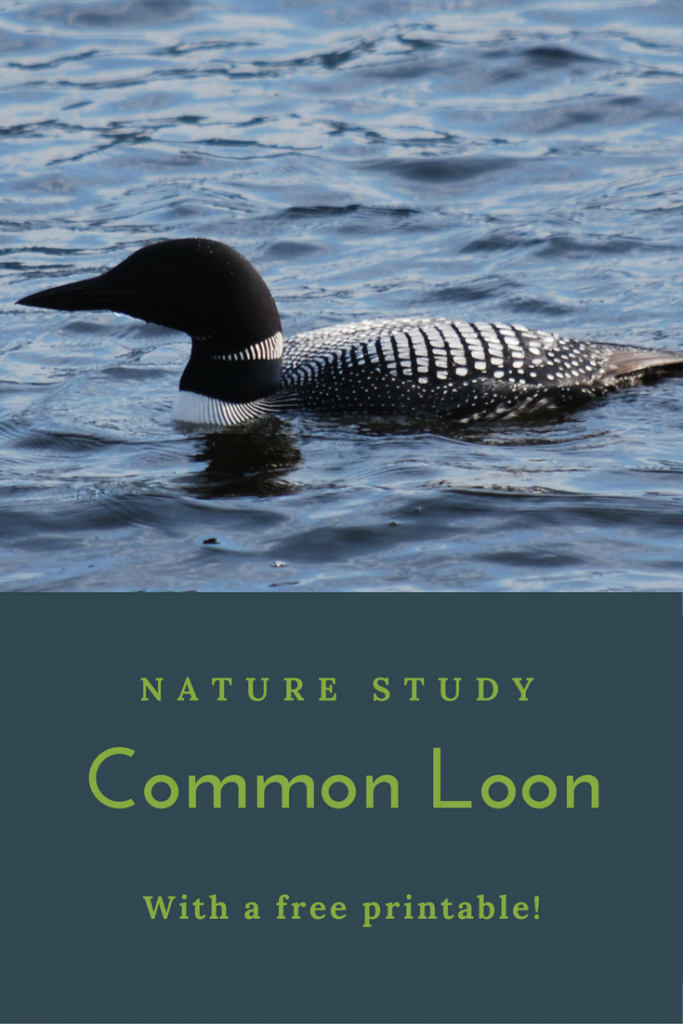 How We Plan Our Nature Study
When we are out in nature, I encourage my children to appreciate and observe our beautiful surroundings.  If we are hauling water to cows, this can provide the perfect opportunity to sit at the lake for a few minutes to see what lives around us.  Sometimes we learn about a new species of grass during a quick picnic snack when checking cows.  I love watching my oldest son get excited and ask when we walk in the door to look up more information about the species that we saw earlier. Each lesson is tailored to what we see with using the resources that we have available.
Our Evening Nature Study with a Common Loon
We had a wonderful evening at a local lake earlier this week and a common loon happened to causally swim by us. The loon was close enough that we were able to observe its identification features and observe it in its natural habitat! Perfect timing!  The next day's lesson was to learn more about the identification features, life history and other neat facts about common loons.
Resources
We use numerous resources for our nature study.  Here are a couple great websites with photos that we used to find out more about common loons:
The Cornell Lab of Ornithology – All About Birds – This is my first stop whenever we want to learn more about a specific bird.  It includes great photos to help identify a bird along with showing photos of similar species. For most birds, you can also listen to the calls and watch a video.
 National Geographic – This website has some great photos and information.
Many of us aref amiliar with the childrens book called Goodnight Moon, well there is a Goodnight Loon book too!
Our bird guide is a wonderful resource which we pack with us frequently, it is called All the Birds of North America. The National Geographic Field Guide to the Birds of North America is also a great resource.
Activity 
I developed a simple worksheet for the Common Loon so that we could document our experience.  This worksheet included a section to draw a common loon and answer some questions about its the identification and life history.If you child isn't writing yet, you can discuss the information with them and then record their learning while giving them an opportunity to draw, colour and/or paste a photo. If you have an older child, they can do the research for the worksheet and give you a presentation about what they learned.  A great chance to do some public speaking practise!