I have treasured every 4-H record book that I completed over my 11 years of 4-H.  I have record books for sheep, beef, clothing and a self-determined project.   For some, record books are a dreaded task and one that is usually left for the last month of the project year.  For my brother and I, we enjoyed adding to our books each month and using it as a resource for the next year.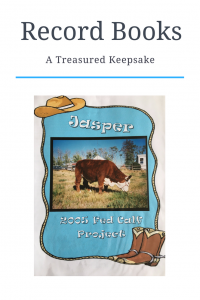 For those of you unfamiliar with what a 4-H record book is, it is a financial record and journal of your 4-H year and 4-H project work.  There are many types, such as livestock, foods, cloverbud, senior management or the junior leader record book.  Furthermore, some projects require independent record keeping such as the self-determined project
I believe that personalizing your record book is the most important aspect in order to make it a keepsake and resource for the future.  There are some mandatory components, but you have the ability to add the components that you feel are necessary and important to your project and 4-H year.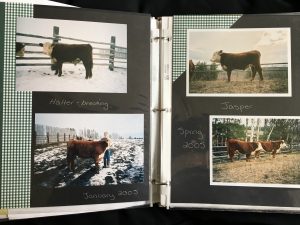 Parent support and coaching is also extremely helpful.  My mom guided us through the process each year, especially when we were juniors.
For homeschooling parents, a record book can be a great way to incorporate your school curriculum.  Math, science, language arts, and art can all be incorporated very easily. I have designed a small record book for my oldest son so that he can keep track of the costs and activities associated with his bottle lamb.  As he gets older, I plan to expand his book to include a wide variety of topics. Message me if you would like a copy.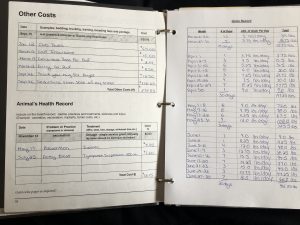 Here are some of my record book suggestions and ideas:
Read the instructions carefully
Ask people so you obtain accurate feed prices and amounts as prices may change throughout the year.
Be consistent
Use lbs. or kg. – but stay with one
Each project has a different number of days and/or months that the project must be carried per year and your record book should cover that length of time
Round all numbers to one decimal place
Include all costs, including small ones
Remember depreciation (10% or best estimate)
Weigh grain ration every time you change the amount so that your record book will reflect accurate costs
Make you goals realistic and evaluate them during the year to see if you are achieving them
Use pencil or pen, but don't switch back and forth. Check with your leader about using the computer.
Ask your leader or record book marker what their guidelines are
Make it original

Use stickers, sketches, photos, journal entries and title pages

Remember that the record book's main purpose is as a financial record and journal of your year
Ribbons are not suggested to be included
Don't wait until the last moment to complete as it won't be as valuable of a resource for you and it will be hard to remember all of the details
Keep a calendar and/or journal where you can record details until you transfer them into your record book (example: important dates such as changing feed)
Have a journal for what was covered at your club meetings
Have a workshop session(s) in your 4-H club where you can work on your record books together
Ask for help!
Put your record book into a binder (preferably with inside pockets)
Easier to keep track of items and stay organized
Assign approximately 20 minutes at each meeting for answering questions about the record books or for working on them as a group
Share ideas between each other!
Club photographer could take pictures for members so that they can put them in their record book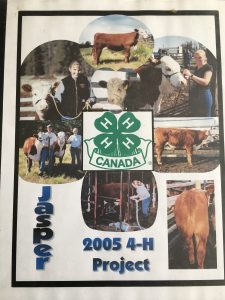 Here is a video of my 2005 record book.  I would be happy to answer any questions you have! https://youtu.be/8Ujx1xCMQ0M 
Comment below is a photo of your record book or with your record book ideas!