Disclosure: I received this complimentary product through the Homeschool Review Crew.
Learning art history with Creating a Masterpiece is easy and fun for the whole family. We were provided a subscription to the Art History Program from Creating a Masterpiece.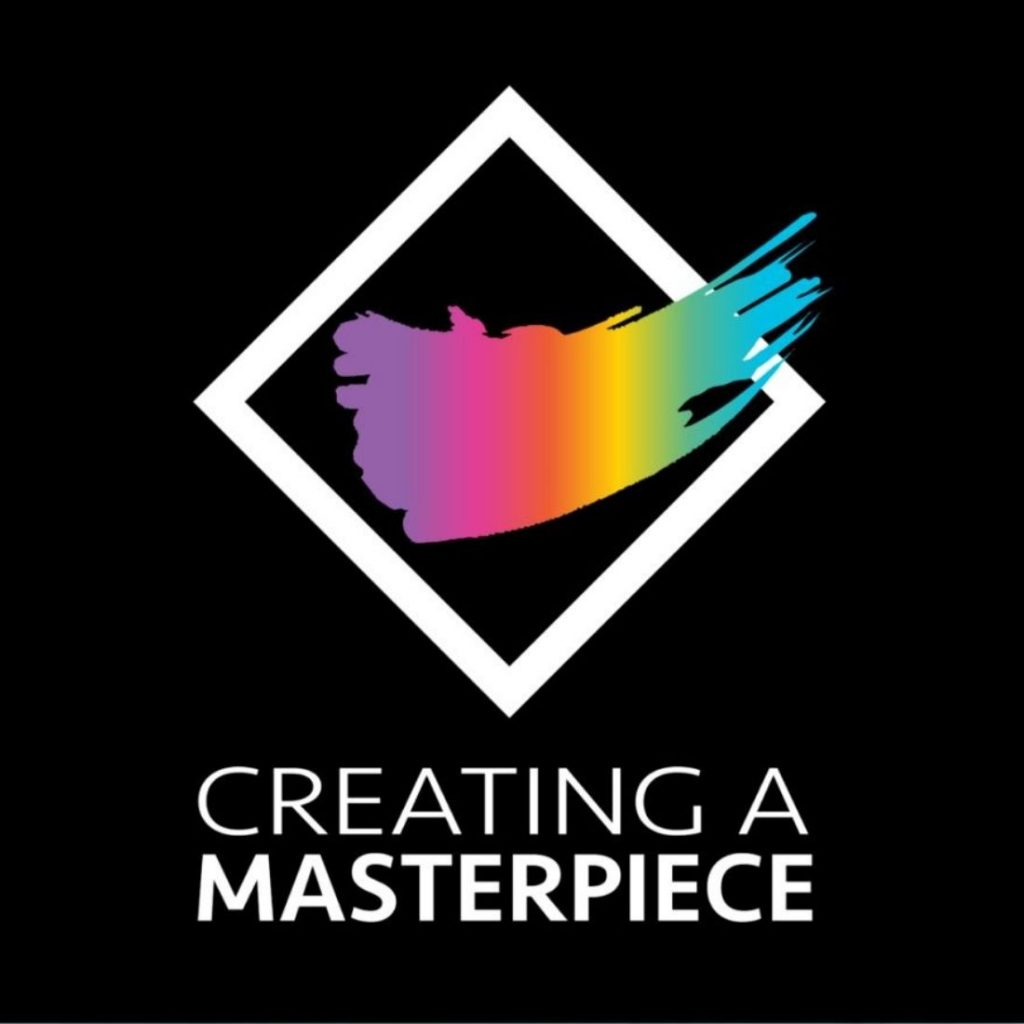 It includes 35 projects with over 90 lessons to help teach history and teach students how to do fine art similar to those done in the periods covered.  It has been a great addition to our homeschool curriculum.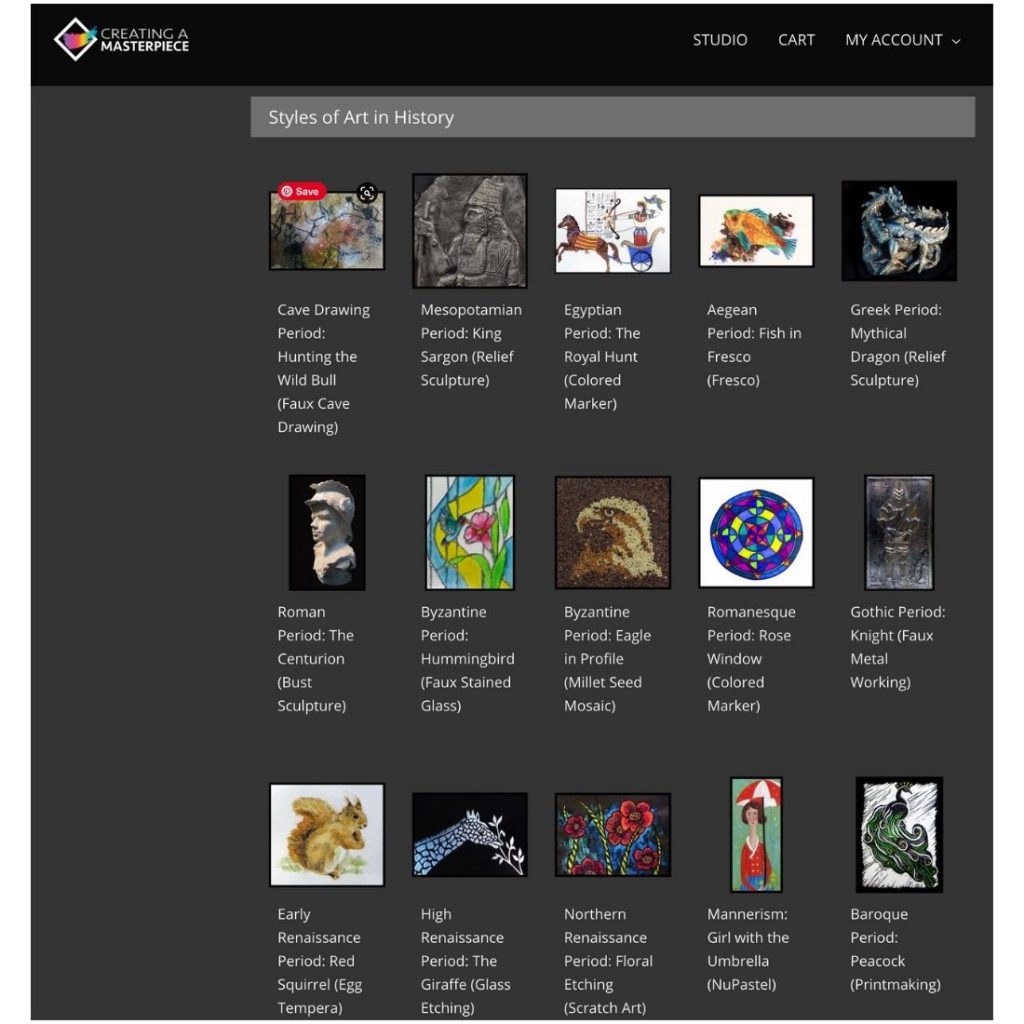 Art History Curriculum
The online lessons are taught by Sharon Hofer and are easily laid out so that you can progress through them at your own pace.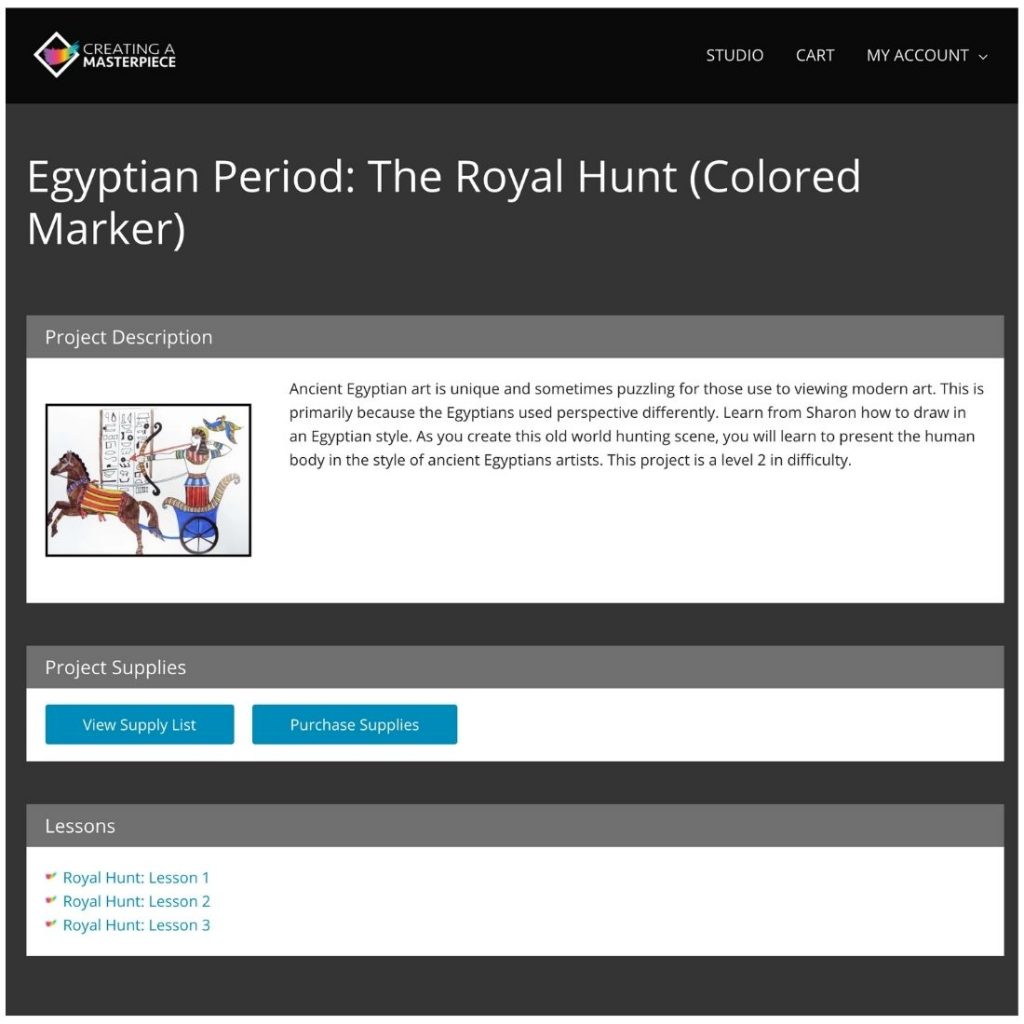 Each project begins with a short summary video that discuss what you will be drawing, what supplies are required and the techniques we will be learning.  Then, each project is broken into a series of smaller videos so that you can carefully plan and learn how to draw each masterpiece.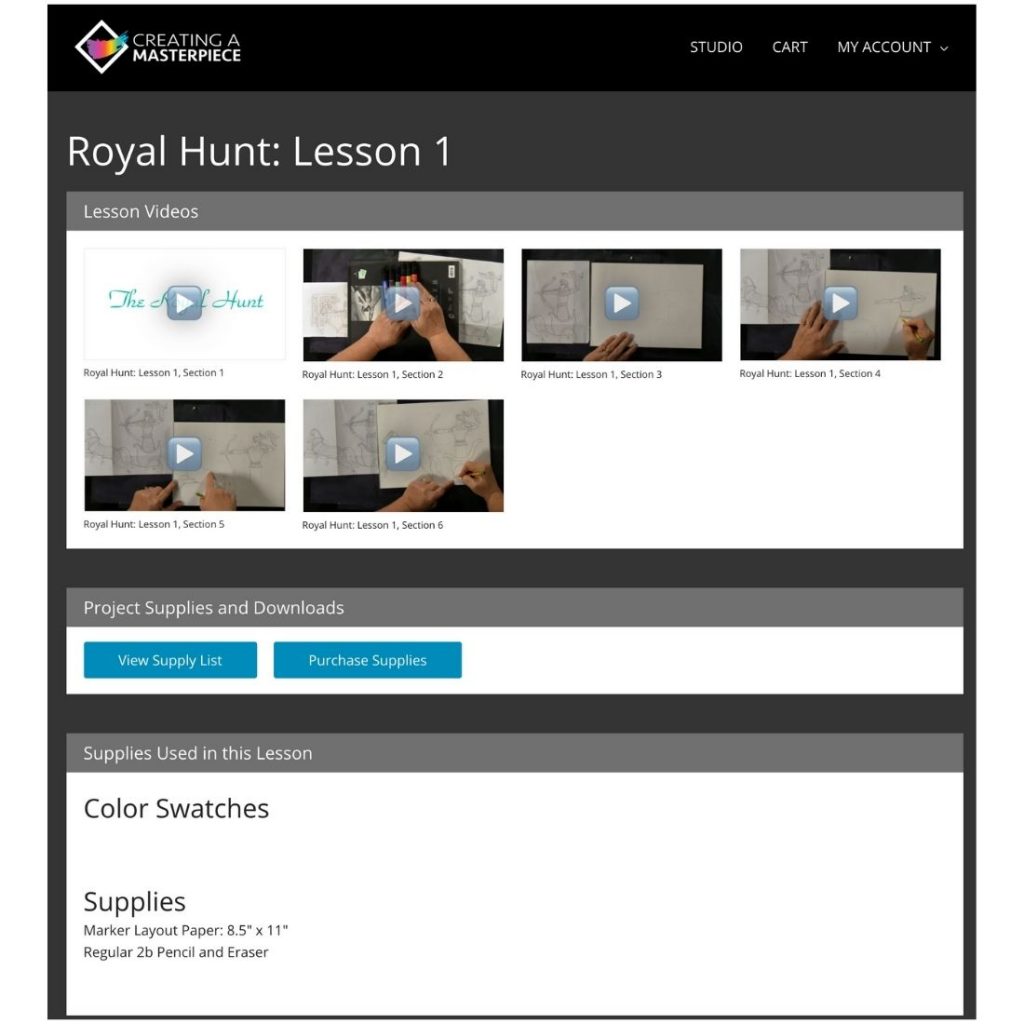 Your child will study historical artistic styles from Cave Drawing , Egyptian, Roman, Byzantine, Medieval, Baroque, Romanticism, Impressionism and many more.
In this curriculum, you child with work with a variety of types of art media. These include working with Faux Metal Working, Faux Stained Glass, Glass Etching, Glass Mosaic, Ink, Oil Painting, Pencil/Charcoal, Printmaking, Sculpture, Acrylic, and Coloured Marker.
The projects are arranged by style. There are 4 sections, each for a slightly different age range. We worked on projects in Styles of Art in History.
Styles of Art in History: Ages 5 and up
Historically Themed Projects: Ages 6 and up.
Exploring the Art of Yesterday: Age 13 and up. This is a more difficult project.
Paint like Vermeer: Girl with the Pearl Earring: Masterpiece level of difficulty. 
How We Used the Art History Program
We have been working through the projects together as a family, usually doing about 1 per week.  I let the boys choose which one they wanted to work on each week.  
We started with the Pop Art: The Flower Pot which uses coloured markers.  The boys had a lot of fun listening to the short lessons and drawing their own flower pot.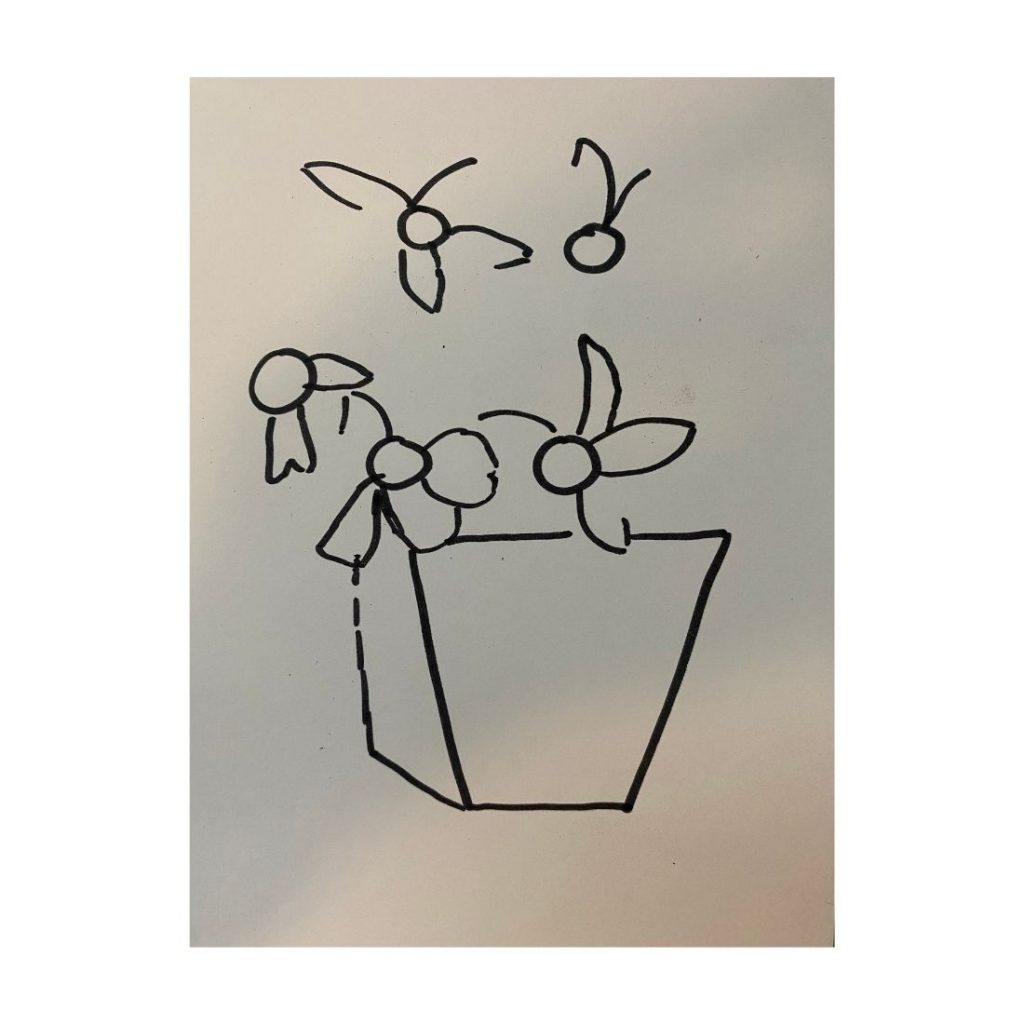 We love being able to pause throughout the lessons to work at our own speed and pace ourselves through the lessons. I can really see how useful this curriculum is when studying history to be able to easily incorporate the hands on lessons into our studies.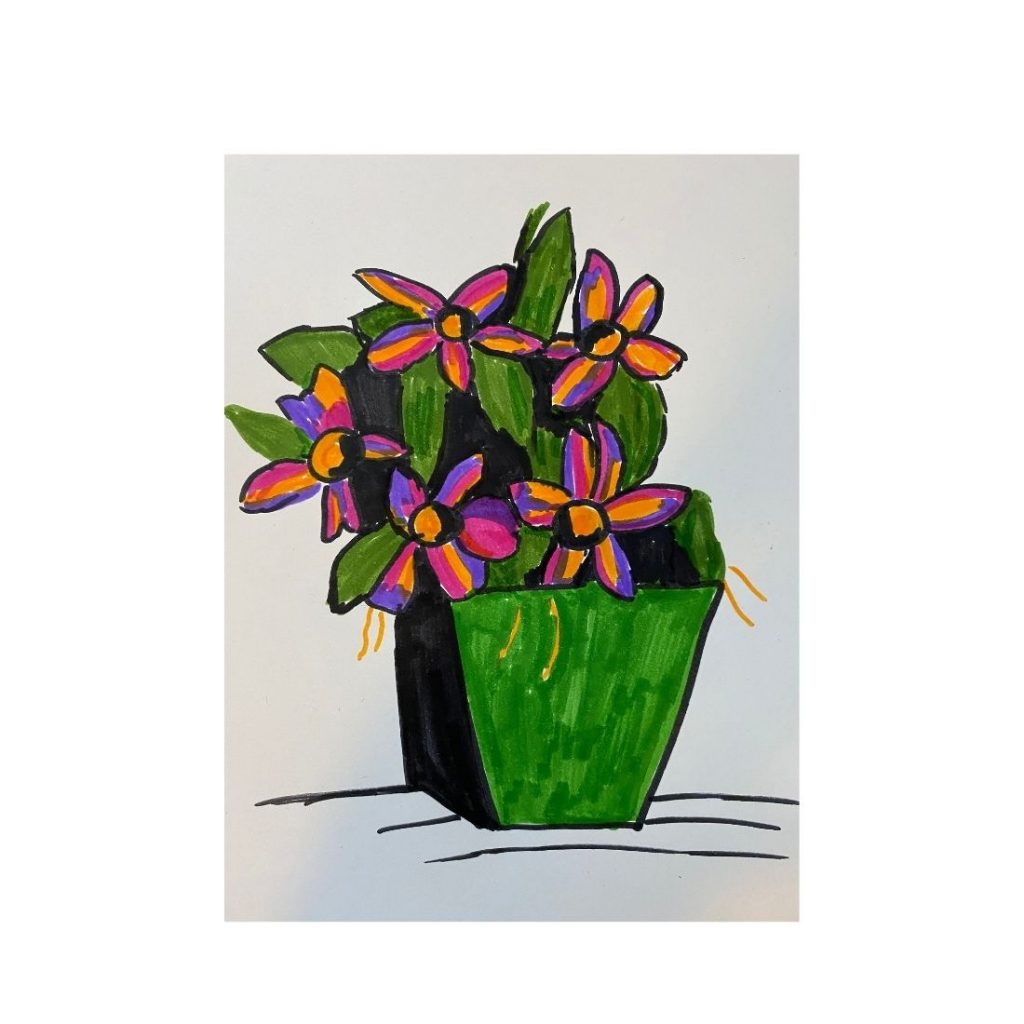 Be sure to check out more reviews of this Art History Program from Creating a Masterpiece completed by other Homeschool Review Crew members.
Social Media Links
Facebook: https://www.facebook.com/createamasterpiece
YouTube: https://www.youtube.com/channel/UCyDU-6301Pwj_1Dez9YkumQ