As a homeschool mom, we can sometimes feel like our home is the last to be looked after. The endless loads of laundry, the bathrooms that need cleaning and the closest that are exploding. Here are some of my tips on how to feel like you aren't always behind on your house cleaning.
First, I like to have a house cleaning schedule that I follow each day, week, month and for the year. I break up all of my household tasks into daily, weekly, monthly and yearly tasks. Then I can easily rotate through them.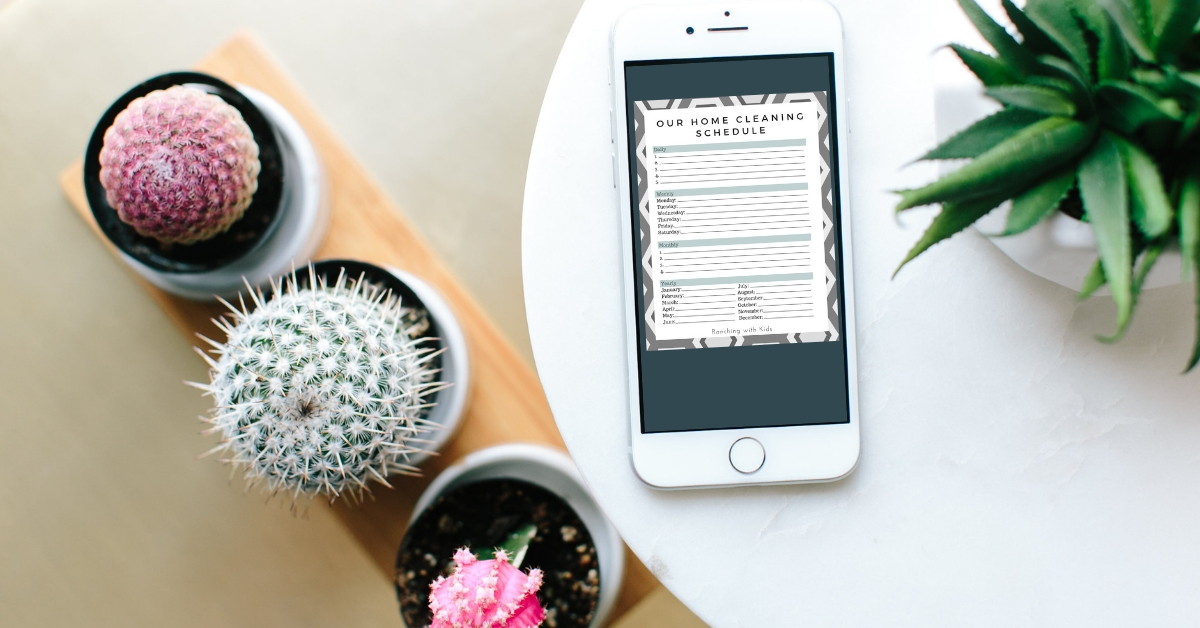 You can easily do this yourself by jotting down all of the household cleaning tasks that you need to do around your home throughout the entire year. Next, move each task under your chosen time frame. Here is a free printable that will help you schedule your house cleaning chores.
[convertkit form=837182]

My Daily Cleaning Schedule
For my daily tasks, I make sure to include any tasks that I must do on a daily basis to stay ahead of the clutter. Each morning, I make the beds, change the towels in the bathroom and quickly declutter the bedrooms, bathroom and kitchen counters. After each meal, I sweep the kitchen and dining room. I also make sure the dishes are all done after each meal and wipe down the counters. Sometime throughout the day, I sweep the living room, do our laundry (usually 1-2 loads per day) and take out the garbage and recyclables.
My Weekly Cleaning Schedule
Next comes my weekly tasks. I plan for 6 days a week. We, as moms, need at least 1 day off per week!
I do one of the following tasks per day each week:
1. Clean the bathroom
2. Change the bed sheets
3. Dust (but sometimes I don't do this every week. This is the one weekly task that I usually let go for the week if we are very busy.)
4. One of my monthly chores
5. Vacuum and wash the floors
6. Catch-up day
Each task is done on a certain day of the week, every week, to help keep me on track. For example, I clean the bathroom on Monday. When cleaning the bathroom, I always do the basics plus one additional larger tasks such as wiping the walls, cabinets or cleaning the baseboards. This makes it a bit easier when I start to do my monthly and yearly cleaning chores.
My Monthly Cleaning Schedule
As I mentioned in my weekly cleaning schedule above, one day of each week is for my monthly cleaning tasks.
Here is an overview of what I do each month:
Week 1: Clean my appliances, such as our coffee maker and washing machine.
Week 2: Vacuum and clean our furniture and wipe down the outside of the cabinets.
Week 3: Wash rugs and tidy closets. I rotate through the closets each time by doing one closet per month.
Week 4: One of my yearly chores.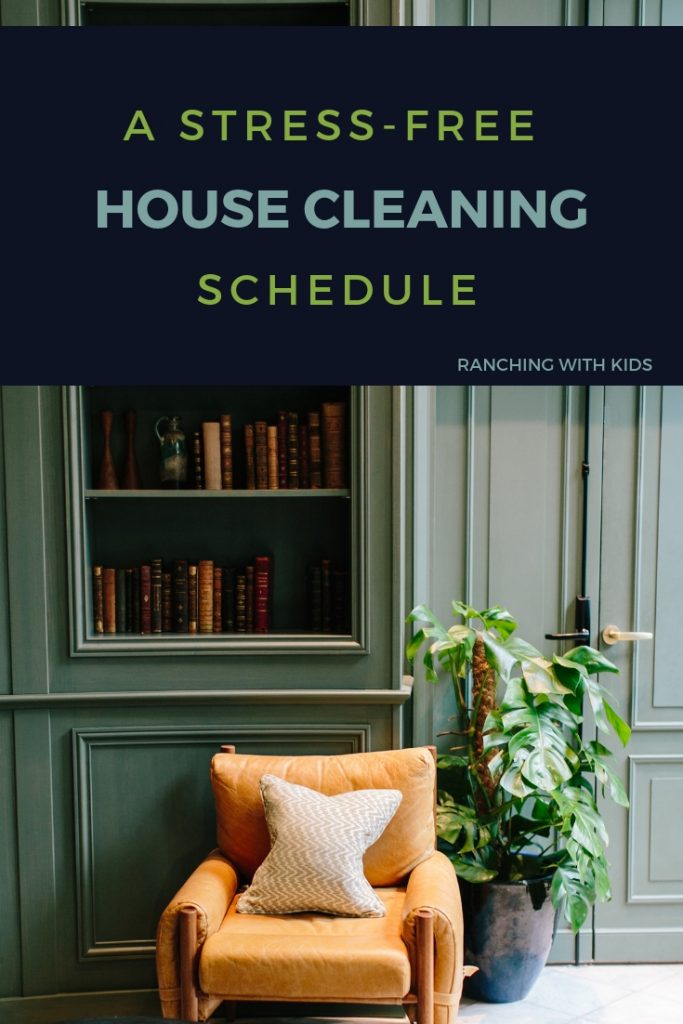 My Yearly Cleaning Schedule
Okay, time to plan the yearly house cleaning schedule. Take the tasks that you want to do once a year (or maybe twice a year) and schedule them over the 12 months. One of the following tasks will be done during one week of each month.
Here are my yearly chores:
Wipe down inside of kitchen cabinets and organize
Deep clean the bedroom closets
Clean the bathroom cabinets
Clean and tidy the entrance
Wipe down walls and doors
Wash outside of house and doorsteps
Clean windows
Clean blinds and window treatments
Deep clean the fridge, stove & dishwasher
Wipe mouldings and clean lights
Wipe down walls & doors
One month will be a catch up month
Don't forget to download my free home cleaning schedule printable below and start scheduling! It can be that easy!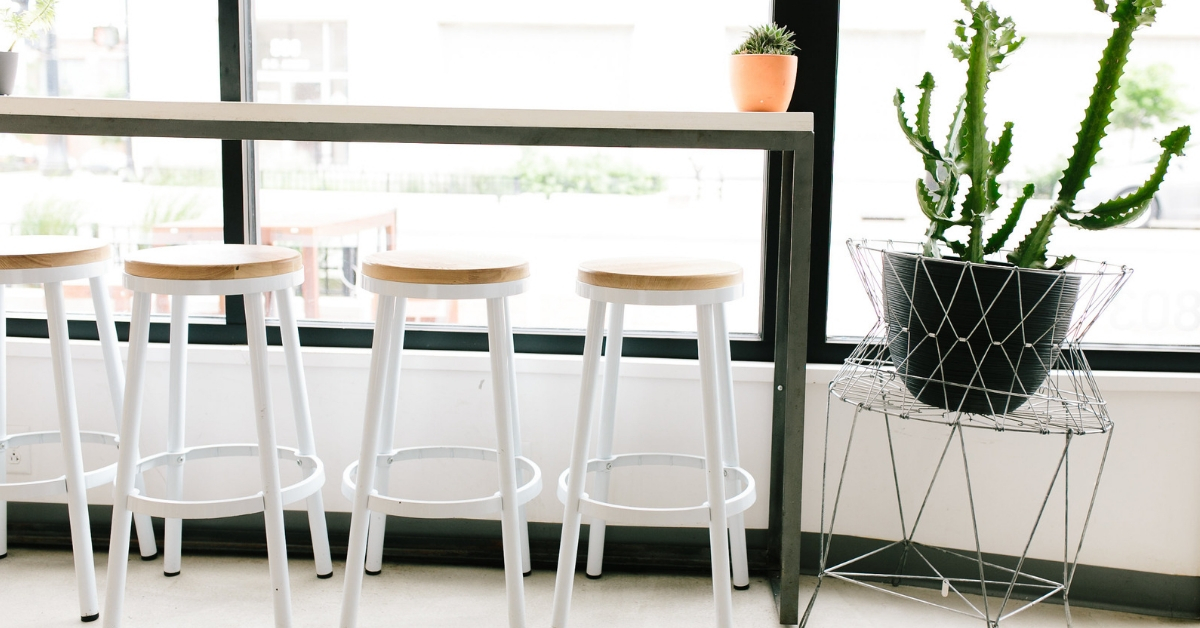 Decluttering As I Go
Each week while I am working on my weekly, monthly and yearly tasks, I will take a few minutes to declutter. I strongly believe that less is more! For example, if I see some clothes that we don't use as I put away laundry, I will take the item and put in our donation pile. The same for our closets, homeschool space, kitchen and so forth. As I clean, I try to consider what items I am picking up and moving and determining if we really use them and need them. By only taking 15 minutes a day to declutter, a few times per week, can make a huge difference on your home.
Take Time to Enjoy Your Home
So now that you have a plan for your cleaning schedule, you can stop worrying about the countless cleaning jobs that must be done. You have a schedule, the jobs will get done over the year so you can focus on enjoying time with your family. Let's take away the constant pressure to be cleaning "something"!