Reading books as a family is a treasured activity in our home. When we incorporate some additional activities to help expand our learning with books, it can make the experience even more worthwhile. The opportunity for learning about another culture while incorporating many other subjects is enriching and fun! The literature-based unit study, Paddington Bear, in the Picture Book Explorers from Branch Out World is packed full of learning in social studies, language arts, art, science and math.   It is geared towards ages 5-10.  Each topic pack in Picture Book Explorers contains maps, flags, a time line and fact sheets and some will contain notebooking pages, mini-books, quizzes and/or colouring sheets.  With over 20 activity suggestions in each there is never a shortage of learning experiences.
Background on the Paddington Bear Unit Study
The Paddington Bear literature-based unit study is from the United Kingdom so one of the best aspects is that we are learning about a different part of the world.  When you purchase the product, you will receive a digital download. It includes over 30 activities in a wide variety of subjects and over 45 pages of printables. The book is not included so we easily found a read-a-loud version on YouTube.
This unit study encourages you to read the book each day for five days while you work through the unit study.  Reading the same book for numerous days helps your child gain a better understanding of the book and provides the opportunity for discussion. Each day covers a different subject area and includes numerous activities, as follows:
Day 1 Exploring the Setting
Day 2 Exploring the Words
Day 3 Exploring the Pictures
Day 4 Exploring the science
Day 5 Exploring Maths, Crafts and More
It also lists all of the supplies that you will need to work through it so that you can be prepared at the beginning of the week. Depending on the age of the child and how much depth you want to go into, you can do one or more of the activities. There is also some suggested movies and books to help expand your child's learning.
The guide also gives you suggestions on how you can to document your child's work, depending on how you use the study. We decided to make a lap book, as my son really enjoys hands-on learning and it includes some neat "mini-books".  Depending on the age of your child, you can easily adapt the activities to them.
Social Studies
We started by working on colouring and labelling maps of the British Isles, Peru, the continents and the World. We pulled out our globe to put it all in perspective and coloured the flags for each country. We talked a bit about migration and some facts about England and Peru and completed the corresponding mini-books.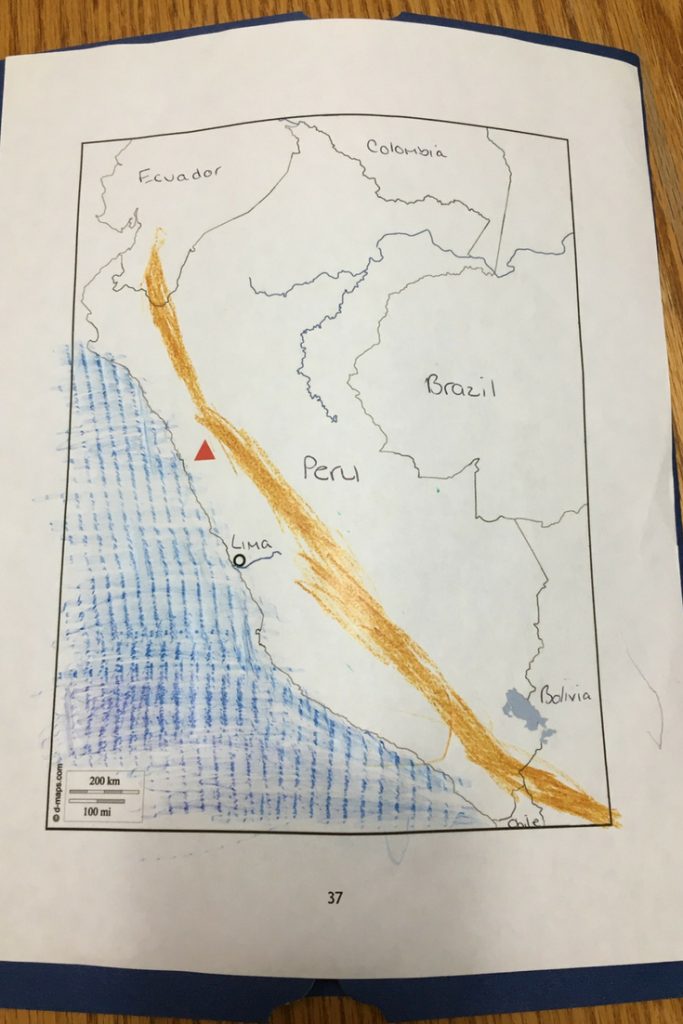 Language Arts
Next, we talked about the author, Michael Bond, and about the theme of helping others that is used throughout the story. My son had the opportunity to narrate the story back to me and then write his own story about one of his toys while I was his scribe. The unit study included a pocket and vocabulary cards that we printed and put in the lapbook.
Art Lessons
Looking at the art for this story was an incredible experience for my son. We discussed the artist and looked at the architectural features of the Brown's house. If we hadn't read the book every day, we probably would not have even noticed these features. By completing a mini-book, we started to learn some more about British architecture. I even learned some new terms, such as mullion and lancet. You can also complete activities relating to a picture study and learning about the principles of design, overlapping and emphasis.
Science
Let's talk about bears! We learned about spectacled bears and completed an activity sheet about them. We talked about steam and learned about condensation, as Paddington was writing his name in steam on the mirror. After the boys had a hot bath, we tried to do the same. I had fun cleaning my mirror afterwards!
In our home, we love nature studies and this unit-study includes a neat garden survey. My son loves taking photos, so he took some photos of plants around the yard and included them in the lapbook. It also suggests a bird survey, which we hope to do at some point soon.
A shaving foam science project and a foam making demonstration are detailed in the unit-study. You can make a non-edible foam and/or meringue.  We hope to do these later this month.
Math, Crafts and More
The last day is about maths, crafts and more. We practised drawing parallel lines and related it to the train in the story. We even pulled out our toy train tracks to look at the lines. I loved the idea of the shaving foam art for creating a map of Peru. For some reason, shaving cream is not my son's favourite art medium so we didn't work on that activity.
Who doesn't love food! The unit study includes some recipes that relate to the story, such as marmalade, strawberry tarts and snacks from Peru! When I do this unity study again with our other children, we are definitely planning a tea party while listening to music from Peru.
Our Future Plans with Literature-Based Unit Studies
Since this Paddington Bear literature-based unit study is from the United Kingdom, it provides a great experience for my son to learn about differences in the language and terms used. There are so many incredible activities outlined that we couldn't possibly do them all. When my other children are older, we will definitely pull out this literature-based unity study again and work on another lapbook.
One of the aspects that I like the most about the Paddington Bear unit study is that it can been easily adapted to your child's skills and can easily be used with a wide age range of children. It makes for the perfect study for your entire family.  We look forward to trying another Picture Book Explorers from Branch Out World.
Social Media Links
Facebook: www.facebook.com/BranchOutWorld    @BranchOutWorld
Pinterest: www.pinterest.com/belzibow   @belzibow
Instagram: www.instagram.com/belzibow   @belzibow
Twitter: www.twitter.com/belzibow  @belzibow